24 Dec

Case Study: SEO for Health Insurance Broker
In today's digital age, Search Engine Optimization (SEO) has become a crucial aspect of online marketing. For a health insurance agency, SEO can help to attract more customers, improve visibility, and increase online credibility. In this case study, we will explore how a health insurance agency can implement an effective SEO strategy using niche, long-tail, and location-based keywords and track the results using Google Analytics goals.
Background
The health insurance industry is highly competitive, and it can be challenging for small and medium-sized agencies to compete with large insurance companies. However, by focusing on niche, long-tail, and location-based keywords, a health insurance agency can target a specific audience and increase their chances of ranking higher in search engine results. Health Insurance PPC advertising can range from 20 dollars to 40 dollars a click because the industry is so competitive however the work-around was SEO as a tool for marketing and attaining more leads.
Strategy
Step 1: Keyword Research
The first step in implementing an effective SEO strategy is to conduct comprehensive keyword research. The agency can use tools such as Google Keyword Planner or SEMrush to identify relevant keywords that their target audience is searching for. They can then categorize these keywords into three groups: niche, long-tail, and location-based.
Niche keywords: These are specific keywords related to the health insurance industry, such as "individual health insurance plans," "group health insurance," "family health insurance," and "Medicare supplemental insurance."
Long-tail keywords: These are longer phrases that are more specific and have lower search volumes but are easier to rank for. Examples include "affordable health insurance for seniors," "best health insurance for self-employed," and "health insurance for small businesses."
Location-based keywords: These are keywords that include the name of the city or region where the agency is located. Examples include "health insurance agents in New York," "health insurance quotes in San Francisco," and "affordable health insurance plans in Miami."
The key is knowing what to look for so that the client has enough leads through a few ranked keywords.
Step 2: On-page Optimization
Once the agency has identified the keywords they want to target, they can optimize their website's on-page elements such as the title tags, meta descriptions, headers, and content to include those keywords. For example, they can use the title tag "Affordable Health Insurance Plans for Small Businesses | XYZ Insurance" and meta description "Get the best health insurance plans for your small business with XYZ Insurance. Our plans are affordable and provide comprehensive coverage."
They can also create high-quality content that targets the niche and long-tail keywords. For instance, they can publish a blog post titled "5 Tips for Choosing the Best Health Insurance for Self-Employed Individuals" and optimize it for the keyword "best health insurance for self-employed."
Step 3: Off-page Optimization
Off-page optimization refers to activities such as link building and social media marketing. By creating high-quality content that targets niche and long-tail keywords, the agency can attract backlinks from authoritative websites, which can help to improve their search engine rankings.
Answering difficult questions about Health Insurance does also establish authority and assistance to those looking for advice before they are ready to call anyone for help.
Promoting their content on social media platforms such as Facebook, Twitter, and LinkedIn to increase their reach and engagement. By building a strong social media presence, they can establish themselves as thought leaders in the health insurance industry.
Step 4: Tracking Results
Finally, the agency can track the results of their SEO efforts using Google Analytics goals. They can set up goals such as "Request a Quote" or "Contact Us" to track the number of leads generated through their website. They can also track the number of visits, bounce rate, and average session duration to measure the effectiveness of their SEO strategy.
CREATE, EDIT, SHARE GOALS Reference
Results
After implementing the above SEO strategy, the health insurance agency saw significant improvements in their search engine rankings and online visibility. They were able to rank on the first page of Google for several niche, long-tail, and location-based keywords, which resulted in increased organic traffic to their website.
Furthermore, by tracking their results using Google Analytics goals, they were able able to track efforts.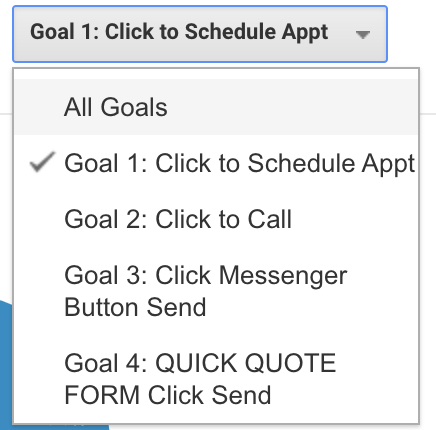 What should you be looking at:?
11 Goal Conversions (calls, form fills, chat messages)
These goal conversions are only from Organic Search Engine
Future Plans:
We plan on scaling this company as they have enough agents to carry out the number of calls. We are happy to be able to work with one client more aggressively than 5 additional clients with different objectives. With more keywords ranking, the only way to go is UP.
Have a question about SEO or any of our services?
We are excited to get your business leading on charts!
Email us at larissa@dmoves.com